2744 Yorkmont Road
Charlotte, NC 28208
United States
Company Established In
1996
CERTIFICATIONS
CATEGORIES & HEADINGSdetails >>
NASCENT Technology develops comprehensive automated gate systems, advanced imaging solutions and driver centric mobile applications -- all designed to help streamline the flow of commerce. Since 1996, NASCENT, through its innovative product designs and service offerings, have streamlined operations for marine terminals, rail terminals, and distribution centers across the US and internationally. The company's dedication and commitment to continuous improvement has established their reputation as leaders within the industry.

NASCENT has over 90 dedicated employees who possess in-depth business knowledge of various transportation industry sectors, including Intermodal Operations, Vessel Operations, Shipping, Logistics and Rail/Terminal Operations. The company's executive team, business analysts, engineers, and developers have years of critical experience in developing complex solutions for "real-world" transportation needs. Among several areas of concentration are container Terminal Operation Systems (TOS), Automated Gate Systems (AGS), enterprise-wide facility security, industrial data collection, and remote monitoring and control.

NASCENT's core offerings include:

• SYNAPSE Automated Gate Systems | Advanced automated gate systems enabling remote operation
• enVision Imaging and OCR Portal | An open-air, free-standing portal for high-resolution imaging and OCR
• Tire Inspection Portal | Captures and archives images of tires for inspection and/or claim reconciliation
• readyAGS | Cloud-based platform and mobile application for faster gate processing
• Kiosks, Callboxes, and Pedestals | Equipment and support systems designed for harsh environments

In 1999, NASCENT was the first to deliver a Video & Voice Over IP-based gate solution that enabled the remote operation of a Gate System in San Juan, Puerto Rico. Since that time, guided by their core design principles, the company has continued to enhance such solutions to ensure that they are "best in class". As a result, NASCENT's SYNAPSE has grown into an award-winning suite of products, offering the utmost in operational flexibility and automation, allowing clients to operate one or more facilities remotely from a centralized location with limited human intervention.

Flexibility, Interoperability, Scalability, and Durability have been NASCENT's core design goals since the beginning. And, the company doesn't stand on mere claims alone. NASCENT hardware, software, and systems have withstood the tests of time, environment, fluidity of operations, volume growth, labor concerns, and ever-changing business landscapes.

Vendor Showcase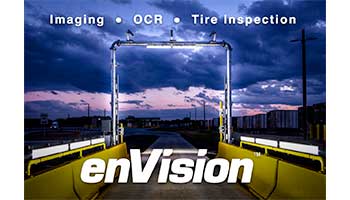 The open-air, free standing enVision Portal utilizes an array of specialized detection and imaging technologies to automatically capture and process container, chassis, and trailer data. The enVision portal is a welcome addition to any advanced automated gate system and will provide a competitive advantage to terminals wishing to increase traffic efficiency and reduce processing times. read more