10180 New Berlin Road
Jacksonville, FL 32226-2210
HOURS OF OPERATION
8am-5:00pm EST
PRODUCTS & BRANDS details >>
CATEGORIES & HEADINGSdetails >>
Buffers USA: Securing your containers. Protecting your cargo. At sea. Over land. On rail.

Buffers USA has four warehouse locations throughout the United States: Jacksonville, FL; Houston, TX; Detroit, MI; Los Angeles, CA. Our product range is constantly becoming more versatile and currently consists of over 6,500 SKU's covering the following product groups:

• Chassis Twistlocks & Pinlocks
• Container, Chassis & Trailer Parts
• Lashing for Container & Ro-Ro Ships
• Rail Car IBC, Wear Castings & Forgings
• Cargo Restraint
• Security Seals for Trucks & Containers
• Moisture Control / Desiccants
• Dunnage Bags, Slip Sheets & FIBC
• Thermal Bulkheads
• Timars Port Equipment

Buffers USA offers the widest range of twistlocks for flatbeds and chassis. This includes height adjustable twistlocks for aluminum flatbeds to overcome the chamber so that 40' containers can be moved on twistlocks.
Buffers USA's IBC with side handle for double stack rail cars is tested and unconditionally approved by AAR per the new, tougher M-998 specification.


Vendor Showcase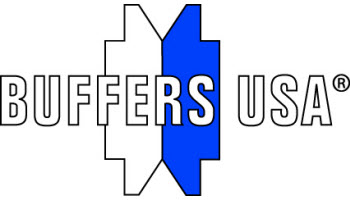 The new Buffers USA manual IBC design, 6601-6961-L, incorporates an extended side-operated handle for easier locking and unlocking of the top container on a double stack rail car. The 6601-6961-L eliminates the need for workers to navigate the very narrow ledge along the side of the well car to unlock or lock the IBCs. Since most falls from well cars occur when a worker is on this ledge, the 6601-6961-L will greatly reduce this safety concern. Workers can remain on the ground and use a pole to push or pull the extended handle to lock or unlock the IBCs.





• Part Number: 6601-6961-L


• Weight: 13.9 lbs / 6.30 kg


• Capacity: 80,000 lbs / 36,300 kg Gross Container Weight (GCW)


• Type: Fixed base with full length double-head locking stem


• Housing: 1-piece type. No bolts required


• Handle: Fitted through stem and secured with a split roll pin for easy replacement (no welding required)


• Material: High strength steel cast housing and forged stem. Stainless steel handle spring.


• Finish: Galvanized


• Unlocking Pole: Part Number: 5004-UP-7-W/1218 (7' aluminum pole with galvanized steel head)


• Meets AAR-M-998-2008


• Locks to the left


• Fits both 96" and 102" wide containers


• Fixed base design


• Cannot be fitted upside down read more